Tree Service Professionals in Mercerville, NJ
Since 1996, HTS Tree Care has been providing tree service expertise to Mercerville, NJ. Our love for the great outdoors and providing our customers with competitive pricing set us apart from the rest. We are members of the International Society of Arboriculture (ISA), The Tree Care Industry Association (TCIA), and are an Accredited Member of the Better Business Bureau.
Reliable Tree Services
Our program is not limited to one specialty; we offer tree removal, pruning, stump grinding, and more services. Still not convinced we're the best? Give us a call today for your free evaluation and inspection offer!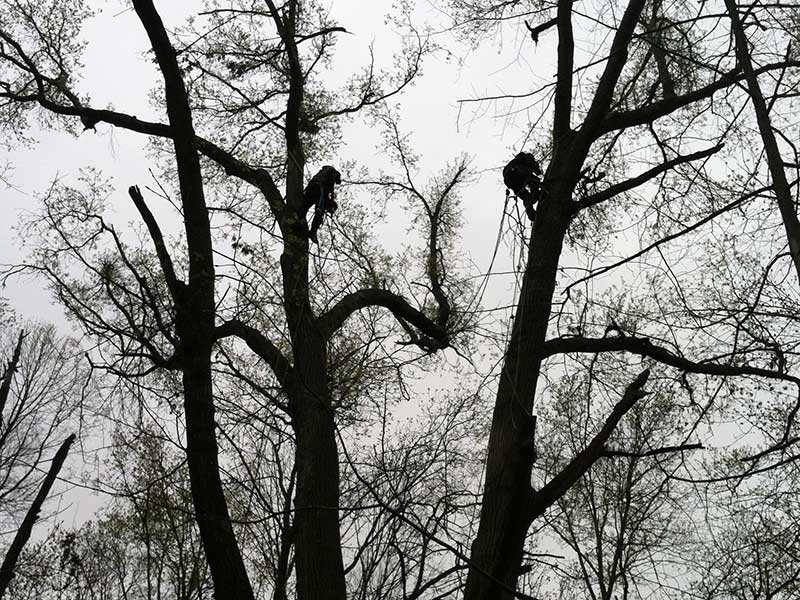 Proper Tree Care Methods
Proper tree care means you should always be on the lookout for signs of tree damage, which can indicate an issue with your tree's health. Make it a point to observe your trees to see if there's any reason for concern. Ask yourself these questions:
Are there areas that appear weakened or stressed due to heavy foliage?
Are there any broken branches or limbs?
Are there any signs of disease or pest infestations?
This review will help you get a better idea of the condition of your trees. Don't fret if you're not confident in want you are looking for when accessing the condition of a tree. A certified arborist can come to your property and complete the assessment to make sure that nothing is misdiagnosed.
Fertilization
Like us, trees need food and water to thrive. This fall and winter, it'll be vitally important to ensure that your trees are getting the nutrients they need through proper watering and fertilization. This will assist in the growth of the roots and will provide adequate nutrients that will help out for the next growing season.
Tree Trimming and Pruning
Fall is a great time to help your tree leave behind what is holding them back. Not only do weak or dead branches halt the even growth of your trees, but they also pose a risk to the safety of your property. Pruning your trees in the fall gives them plenty of time to recover before the next spring arrives. Tree trimming in Mercerville, NJ is only a worthy cause when it is done correctly with the right tools. If you aren't certain that you can execute these tasks in a safe and effective matter, it's best to leave this to the professionals.
Plant New Trees
If you're looking to plant new trees in the Lubbock area, the best time of year to do so is between Halloween and St. Patrick's day. Unfortunately for the indecisive, there's a lot to think about when selecting the most suitable trees for your property.
Don't forget, the team here at HTS Tree Care is always happy to help with all of your tree care needs. Contact us to schedule service for your trees or to ask us any questions you may have.
Expert Tree Removal in Mercerville, NJ
If you, like many other self-reliant property owners, feel inclined to clean up your own yard after a violent storm passes, resist the urge to fire up your chainsaw. There is a definite art to safe tree removal that only comes with extensive training and years of experience. A tree almost never comes to rest in a horizontal position. More often than not, downed trees fall in unnatural positions, often bending surrounding foliage. If a tree has bent branches, there is a possibility that as you begin to remove some of those branches, you could cause other branches to spring back. If you are working with power tools, the danger is obvious. Call the professionals at HTS Tree Care – we will help you with your tree removal needs!
Signs a Tree Needs to Be Removed
We encourage tree owners to protect and secure the health of their trees through a variety of strategies, like watering, pruning and fertilizing. Unfortunately, completing all these tasks might not be enough to save a tree that is too far gone. Removal can feel like a loss, but sometimes it's the only way to deal with a hazardous tree that poses a risk to your family and property's safety.
So how can you tell when it's time to call it quits? Thankfully, your tree doesn't exactly suffer in silence. There are a few clues that a tree will give to indicate that its health is either at great risk or a lost cause.
The following are some common signs that a tree needs to be removed:
There are dead or hanging branches in the upper crown of the tree.
At the base of the trunk, fungi like mushroom appear and cause decay.
The bark on the tree is peeling or chipped.
Cracks are forming in the trunk of the tree.
Your tree is leaning more than it seemed to previously.
When you make a small scratch in the bark and notice a brown color, rather than a greenish color.
If you notice one or more of these symptoms, the best thing you can do is reach out to a professional who can make the best judgment for you. Some trees can be salvaged after all! An expert will be able to tell if a tree needs to be removed, and they have access to the equipment necessary to execute this job safely.
Learn More About Tree Trimming, Removal, and Other Tree Services
If you are in need of expert tree services in Mercerville, NJ, contact the professionals at HTS Tree Care today.