Tree Service Pennington, NJ
Since 1996, HTS Tree Care Professionals has been providing residential and commercial tree care to the properties of Pennington, NJ. As a 2nd generation family-owned company, tree care is what we do best! The love of the outdoors, tree care, and offering affordable prices to our clients runs in the family! Our expert tree care team consists of highly trained tree specialists, including the International Society of Arboriculture (ISA), Certified Arborists on Staff.  These are arborists who have achieved a level of knowledge in tree care through experience and by passing a comprehensive examination developed by leading experts on tree care.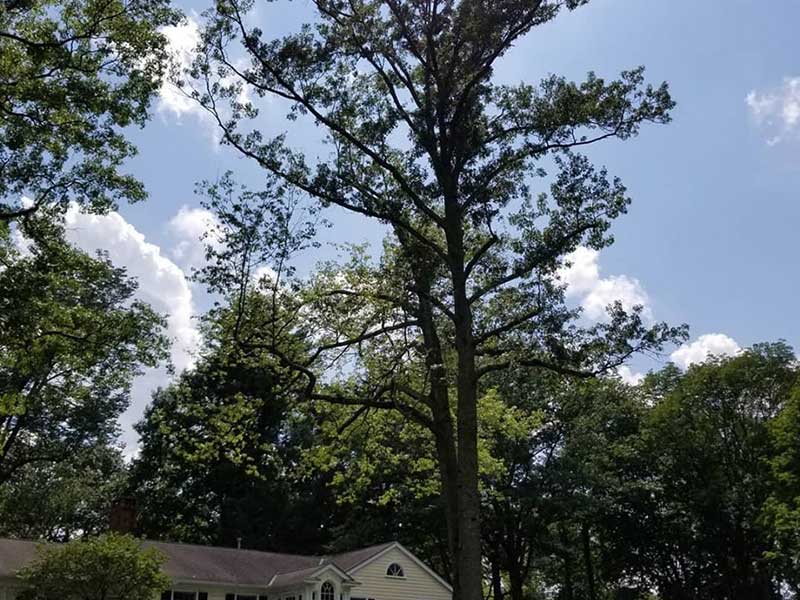 Tree Care
In addition to adding curb appeal and value to your property, proper tree care is important for the safety of your property. Trees that are not well cared for will become an eye sore, and they can become a liability risk to people and property. With our years of experience, we can provide the necessary tree care maintenance needed per tree to keep your property looking its best!
Tree Trimming & Pruning
While tree trimming and tree pruning may feel like you are removing parts of the tree, it is actually necessary to increase the health of the tree and to keep the surrounding property safe. As trees grow, they can be weighed down by dead branches or grow too close to homes or over walking paths. Our Certified Arborists have years of experience in trimming and pruning to the areas where it is necessary. We will suggest the best pruning techniques, including crown cleaning, crown thinning, crown, and hazard reduction. As we begin to remove unhealthy parts of the tree and reduce any hazardous growth, you will enjoy the benefits of well-maintained trees growing in a healthy and safe manner.
Tree Removal
As tree experts, we hate to see a tree come down, but there are times when it is necessary for the safety of the property and the health of the tree. Our Certified Arborists will find the best solution to protect the surrounding area during the removal. We are licensed and highly trained in the use of bucket trucks, cranes, and climbing methods to remove even the most challenging trees. We use matting to protect your property, and with the use of our chipper, we can dispose of the majority of the tree when we finish. We always make sure to clean up before leaving after any tree removal.
Learn More About Our Tree Services
If you are looking for reliable and professional tree care in Pennington, NJ, call our team of tree experts to discuss your tree care needs!