Tree Service Lawrence NJ
For safe, professional, and affordable tree care in Lawrence, NJ, HTS Tree Care Professionals is the only call you need to make! Our expert arborists and experienced staff understand the best practices for tree care. We began with a single dump truck and a chipper. Today, as a father and son team, we've grown to a fleet of trucks, top-of-the-line equipment, and clients who depend on our expert services to keep their residential and commercial properties safe and looking their best. With Certified Arborists on safe, our entire team is committed to continued training to always understand the latest advancements in the science of how trees grow and their care.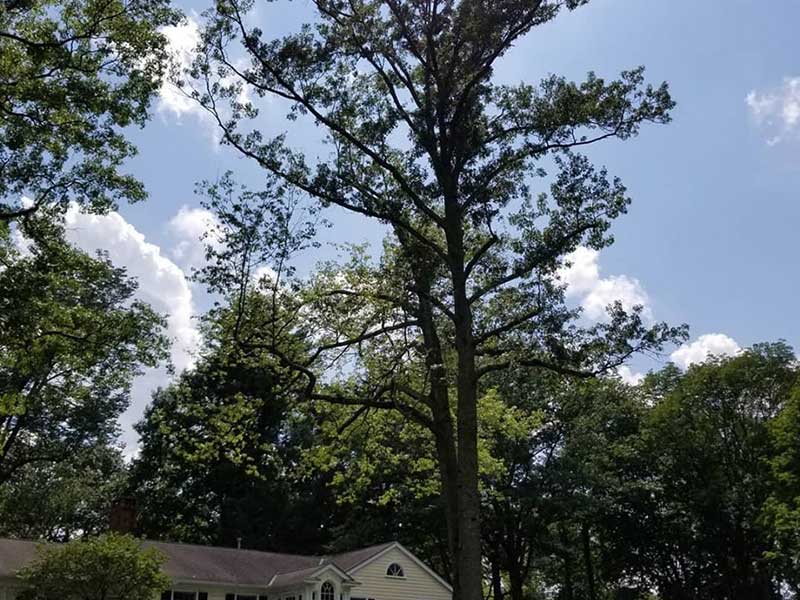 Tree Care
Are your trees not looking as healthy as they once did? Are you concerned about the way the leaves are looking? At HTS, we can provide tree care to keep your trees looking healthy. When trees don't receive the proper care, they can become a risk to the property and people. Our team of tree experts will be happy to look at your trees and suggest tree care recommendations. The added value tree care adds to your property is an investment you'll be glad you made.
Tree Trimming & Pruning in Lawrenceville, NJ
Tree trimming and pruning are essential for the continued growth of your trees. Removing dead branches and keeping branches from growing over heavily trafficked pathways or close to utility lines are best practices to keep your property safe. In addition, trimming and pruning allow for increased sunlight throughout the tree for new growth.  We would be happy to evaluate the trees on your property. Depending on your needs, we provide crown cleaning, crown thinning, crown reduction, and hazard reduction. Our Certified Arborists have years of experience in pruning techniques and will suggest the best options to maintain or improve the health and appearance of your trees.
Safe Tree Removal
When a tree needs to be removed for the safety of the property or if the tree is not healthy, our Certified Arborists will make the best possible suggestions for tree removal. We will be happy to come to your property to determine if a tree should be removed.
Our team is highly trained and experienced for safe use with our company equipment, including bucket trucks, cranes, and climbing. The safety of our employees and the protection of your property are our top concerns. We will lay matting for our equipment to protect lawns and structures. With our chipper, we are able to remove the majority of the tree, making clean up fast.
Learn More About Tree Care
We offer professional tree care in Lawrence, NJ. Let's talk today to discuss how we can best care for your trees!