Emerald Ash Borer Mitigation
HTS Tree Care can inspect your trees for Emerald Ash Borers and provide treatment. With over 20 years of experience caring for trees in Mercer County, including Pennington, Hopewell, Lawrence NJ, and surrounding New Jersey areas, we've become a trusted source for EAB treatment in the local area.
Proper treatment can maintain a functional and aesthetically pleasing tree canopy and should be done once Emerald Ash Borers are detected within 10-15 miles of a given property. Insecticides can effectively and consistently protect even large trees under intense pest pressure but need to be applied when trees are still relatively healthy or before an infestation begins. Unfortunately, by the time dieback is usually noticed, considerable damage to the trees has already occurred.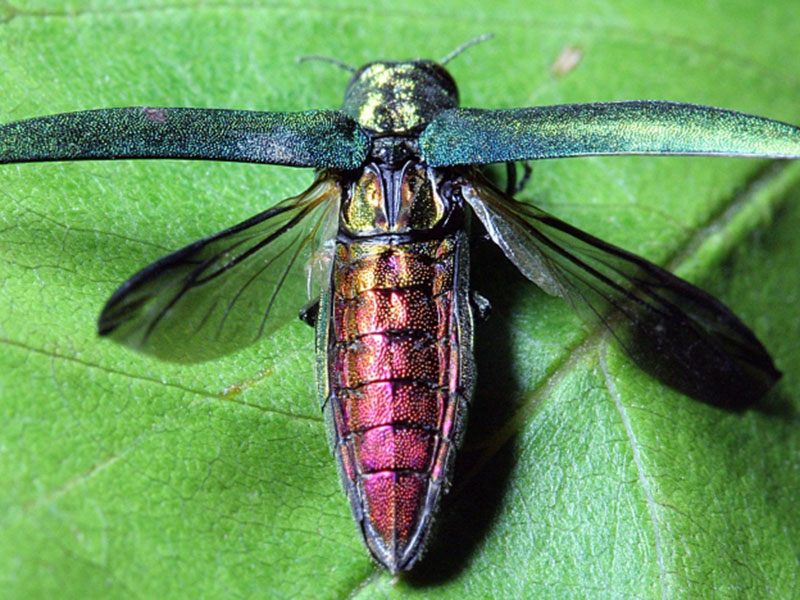 Insecticide Options & Recommendations
Insecticides may stop additional damage but cannot reverse any existing damage. They can be applied in four ways.
Trunk Injection
Truck injection can be done to trees of all sizes whenever the trees have leaves and are transpiring. It is the fastest way for a tree to absorb a chemical and is done through tiny injection sites at the base of a tree. Tree-age is the most economical and effective systemic used, and is done through a bi-annual treatment.
Soil Injection
Recommended for smaller trees (under 15"-20") as an annual treatment. This method is applied through a chemical drench injected into the soil around a tree and must be applied in the early spring, or by an increased dosage in the fall.
Trunk Spray
A low-pressure spray is applied to the lower 5-6' of the tree trunk that penetrates through the bark and into the vascular system of a tree. It has the second fastest absorption rate, must be done annually, and carries the same effectiveness as a soil injection.
Cover Sprays
A variety of cover sprays may be sprayed directly onto the trunk, limbs, and leaves of a tree to kill any active adults present at the time of application. 1-2 applications per year are needed, but it does not protect the tree from any new pest attacks.
Emerald Ash Borer Remediation
HTS Tree Care is here to help you keep your plants and trees happy and healthy! Removing and preventing Emerald Ash Borers is just one way we can help you accomplish this. Our dedicated arborists are experienced in Emerald Ash Borer remediation in Lawrenceville, NJ, and surrounding areas.
Learn More About Emerald Ash Borers
We offer our emerald ash borer remediation services in Princeton, Hamilton, NJ, and surrounding areas. Contact us today to learn more!